---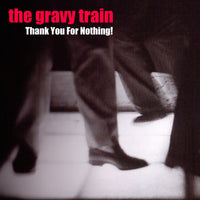 Gravy Train - Thank You For Nothing! cd
(Jigsaw Records, PZL064)
the Gravy Train may have only released three and a half singles (one was a split flexi, you see), but they were certainly no strangers to the flourishing UK cassette scene of the early '90s. It looks like there were just as many songs given to such great compilations, like "Positively Teenage!!?", "C92" and "Teeny Poppers", as there were on their own records! So, curating a collection of this band's work involved a lot of patience and dodgy cassettes (so the sound quality is not always perfect), but I think the resulting 28-track compilation was well worth the effort. On this disc, you'll find all ten songs from their singles, a majority of their compilation contributions (a couple were unsalvageable, regrettably), as well as tracks from their never-released debut lp and a few unreleased gems for good measure. Dig in!
Not limited. All songs written by the Gravy Train. Available digitally on
Bandcamp
.
Tracklisting:
Make It Better
Why Does The Sun Fall From The Sky?
4 Walls
Salt In The Wound
Sacred Ground
Another Day
Wish You Luck
St. George's Way
Worldly Wise
Come In From The Cold
Do You Really Know What's Going On?
Money Talks
Make A Big Decision
Goodbye To Stephen
A World Of Your Own
Pull The Boat In
Close To Home
Think It Over... And Start Again
Happy Again
The Devil's In Your Shoes
This Is Your Life
A Suit Of Wood
Watch The Rain
You Live By The Sword... You Die By The Sword
Sad
Chocolate Rain
(You Need) A Heart Of Stone
Ever Get The Feeling You've Been Cheated?